"I told Bruce Jarrell, I had told Jennifer [Litchman], please don't do this. You know, don't put me on the wall yet!" pleaded University System of Maryland (USM) Chancellor Jay A. Perman, MD, to the laughter of nearly 100 friends, colleagues, and former colleagues at a Feb. 23 ceremony held to unveil his official portrait as a past president of the University of Maryland, Baltimore (UMB). "For God's sakes, I'm an active faculty member here. I'm not done," he continued to more laughter.
After Perman and current UMB President Bruce E. Jarrell, MD, FACS, unveiled the portrait together, Perman agreed artist Jacqueline Jasper's work was "beautiful" and thanked her, still appearing very self-conscious.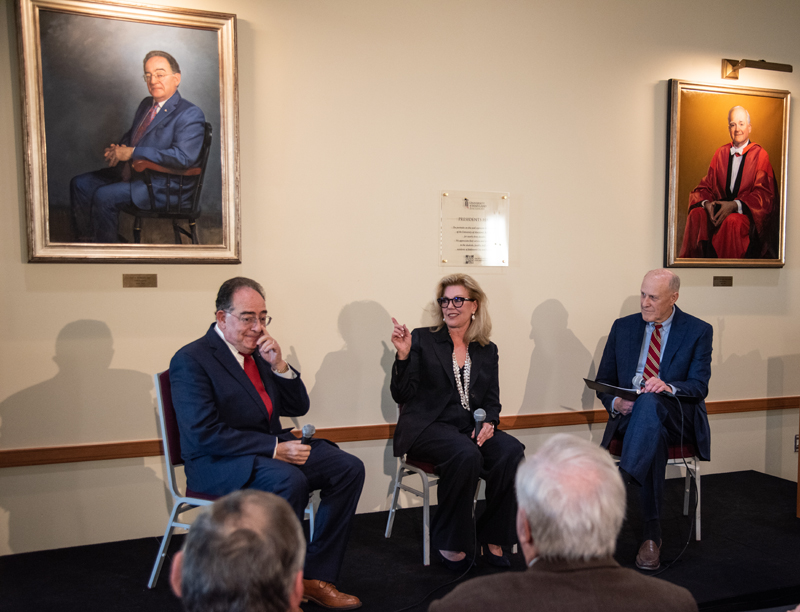 "And that was the look that inspired the portrait," Jasper explained. "I saw this look. And I thought he's incredible. He looks as if he's just asked you a question. And he's waiting for the answer. And I thought that's an educator inspiring you to think of that."
Jarrell, a longtime colleague and friend, couldn't resist ribbing Perman. "I have always wondered how you paint a face. It must be very difficult. So, what was it about this face?" he asked Jasper with a big smile.
"Don't answer that," Perman shot back, to even more laughter.
But the crowd, overflowing in the hallway outside of the SMC Campus Center's Elm Ballrooms — now dubbed "Presidents Hall" — was there not only for the camaraderie, but also to honor an accomplished and inspirational leader.
"Jay's presidency was marked by excellence in education, research, and service," remarked Linda R. Gooden, MBA, chair of the USM Board of Regents. "As UMB president, he strengthened the institution's ties to the city of Baltimore, enhancing economic inclusion, health care access, community engagement, innovation, and so much more. Jay put a premium on creating pathways for underrepresented students, especially students interested in the STEM fields."
UMB Foundation Board Chair Harry Knipp, MD '76, FACR, also highlighted Perman's work to build bridges with the West Baltimore community and importance of that work to the University's students.
"The community engagement activities are the things that the students really remember, the working one-on-one with our neighbors in the surrounding area in all of our various programs that we've created — many under his guidance. And it's those things that will bring our students back to this campus as alumni and as donors and as friends in the future," he said.
When it was time for Perman to speak, however, he urged the gathering to think of the other man honored with a portrait now hanging in Presidents Hall — former President David J. Ramsay, DM, DPhil.
"I need to reflect first, not on this person [gesturing toward his portrait], but on this person, Dr. David Ramsay, who sadly passed away about three years ago," Perman started. "He led this university for 16 years. But in coming here, and in working here previously, as the chair of pediatrics, those were not my initial encounters with my predecessor. My first faculty job in the late '70s, early '80s, was at the University of California, San Francisco. They hired me as a young, naive assistant professor. And Andrea and I were told to go north to Marin County until the houses got affordable," he continued.
"Rather than have us all drive in from Northern Marin County, the university ran a bus down one on one and across the Golden Gate and into the city and there was no need to park, et cetera. You know, who was on my bus? Dr. David Ramsay. And he was a distinguished professor by the time I got there, and you know, that twinkle that he always had in his eyes, you all that know him. That's what I got. I got the benefit of a warm, wonderful man who realized that there was this naive assistant professor on the bus and look at how life works. Now I'm hanging on the wall with him. Let's never forget, David. I certainly won't."
As for his own legacy, Perman offered that some of the most special moments in his career happened at UMB, where he said, "We were, we are a family." Remembering another gathering more than three years ago when he left to take the post as chancellor of USM, Perman recounted a quote he shared by late publisher Malcolm Forbes.
"Malcolm Forbes said people who matter are most aware that everyone else does, too. And that's what always was so special to me about UMB. You all know and all the people that work here and all the people that study here know that everyone matters. You treat everyone like they matter whether they're inside the university or outside the university. It's the foundational principle. I think that makes UMB what it is."