"Nobody understands the value of a higher education better than I do. I am so privileged to be in this role because it allows me to fulfill my obligation." In just the second week of his tenure as chancellor of the University System of Maryland, former University of Maryland, Baltimore (UMB) President Jay A. Perman, MD, was honored Jan. 15 by more than 100 leaders from academia, government, and business at Baltimore's Center Club.
That obligation, Perman explained, derives from his early years. His parents were immigrants who fled persecution in Ukraine and settled in Chicago, where they established a hand laundry. Perman dreamed from a young age of becoming a physician and was accepted to Northwestern University, but the cost of medical school seemed an impossible "mountain to climb."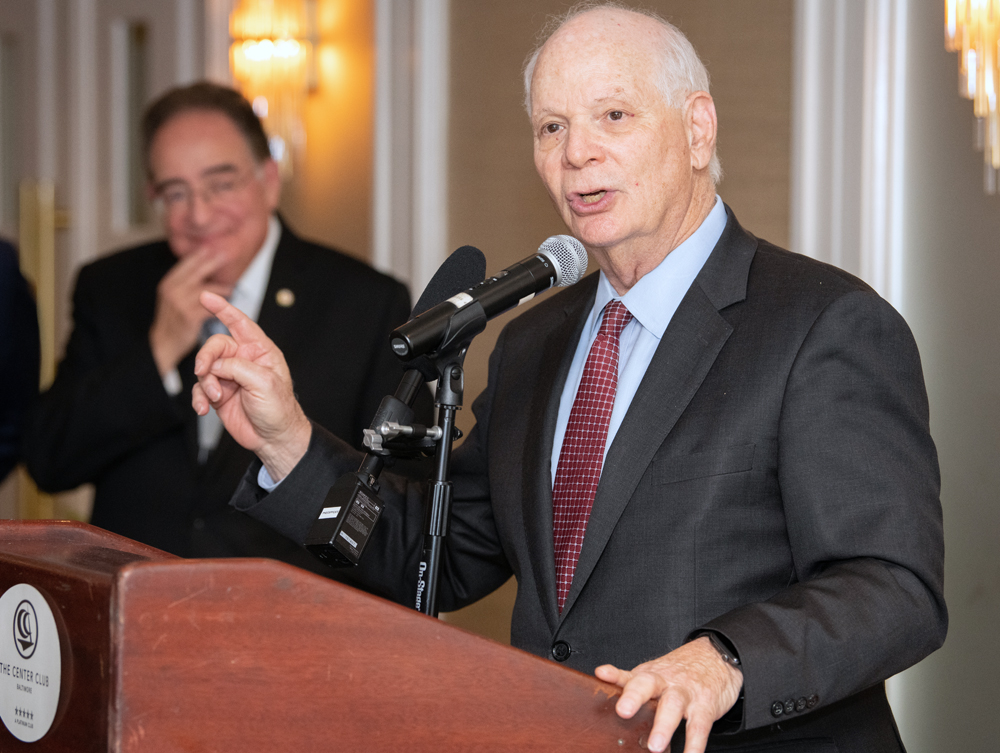 "About three weeks before I was supposed to start in medical school, a letter comes in the mail and it says, 'Congratulations, you are the Ploner Scholar,' " Perman said. All of his expenses were paid. "So, this is where my sense of obligation comes from. When people have asked me what you're going to do after you're done with the presidency, I used to say, 'I am going to do everything I can, not necessarily with money, but with my expertise that hopefully I have garnered along the way to make sure that anybody who wants a higher education can get it.' "
After the presentation of a farewell video, which included testimonials from former UMB colleagues and West Baltimore community members, two notable attendees added their praise.
"It is appropriate that we're here to honor him [Perman] for his incredible service to UMB over the past 10 years," said Gov. Larry Hogan. "I think that video really told the most important part of the story. We can talk about all your accomplishments and all the things you've done for the University of Maryland, Baltimore, and all your accomplishments throughout your entire career, but the way you've touched so many people, the fact that all those people were that emotional and that everybody was crying, I almost started crying."
After presenting Perman with a governor's citation, Hogan gave the podium over to U.S. Sen. Ben Cardin, JD '67, who began his remarks with a moment of levity.
"You may have heard that we will be starting a Senate trial in regards to impeachment," he started. "I'm not going to get into that at all. But the trial requires 100 senators for perhaps the next couple weeks to sit in their seats and not speak. So, thank you for allowing me to speak tonight so I get some of this out of my system."
Cardin continued, reinforcing Perman's sentiments about the importance of access to higher education and his commitment to providing access to qualified Maryland students.
"Jay, you understood early, and I'm glad you told your life story, that education is the great equalizer. It's an equalizer for the students who are there so that they can achieve their dreams and capitalize on all their talent. It's a great equalizer because we invest in the research and the discoveries that take place in academic centers. And it's a great equalizer for what they can do, the institutions in the communities in which they are located," Cardin said.
Though appreciative of the kind words and encouragement, Perman had another goal for the evening affair. "When I was told by my colleagues that they wanted to do this, I said on one condition, that my so long or whatever we're going to call it also becomes an opportunity to introduce the fellow that's going to carry on in an interim role," Perman said, introducing Bruce E. Jarrell, MD, FACS, interim president of UMB. "Partnership, collegiality, collaboration. That's Dr. Jarrell. Working in teams, teaching students how to work in teams, he's embraced that. And Dr. Jarrell has embraced the work in the community. There are a lot of people who say to me, 'What's going to happen now that you've left?' It'll be just fine," Perman assured attendees.
Jarrell, former UMB provost and Graduate School dean, offered further reassurance that Perman's legacy of community engagement would continue undiminished with a personal story. An accomplished surgeon with decades of experience, Jarrell now uses his hands for a very different pursuit, the art of the blacksmithing. "Last summer I was at my shop working away, and my four beautiful granddaughters wandered into the shop. And they said, 'Pop-Pop, we want to do something with you.' So, I said, 'Well, what would you like to do?' And they said, 'We'd like to write our names.' "
Jarrell explained that his anvil sits atop an oak stump, and that he created brands with which the girls burned their names into the stump. Every time he sees their names, Jarrell explained, he is reminded of the wonderful time they shared.
"Now, I think of UMB sort of the same way. UMB is this great big anvil. We forge out new doctors, new lawyers, we address social ills and other problems. We take care of patients. We look at all kinds of things to improve ... our mission which is to improve mankind. And that big old UMB anvil sits on a stump, and on that stump there are other words that have to do with our mission. I love to teach — teaching is on there. We do research — it's important. We take care of patients — it's important. So, when I think about what Jay Perman has done at our University, he's actually done something on that stump. He's burned a new word onto that stump. That new word is community. And it has been burned deep. It's not going to come off. And we're going to keep committed to that. So, Jay, I want to thank you very much for that wonderful new word on my stump."